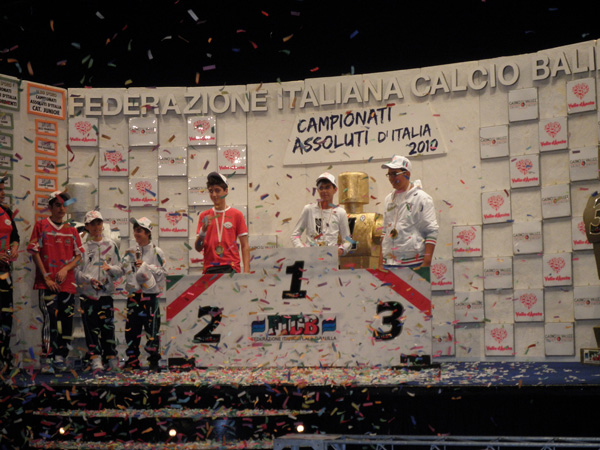 SPORT TOSCANA CALCIO BALILLA is a non- profit Amateur Sports Association , and since December 2010 it has been registered in the register of the Tuscany Region among the Social Promotion Associations.
The association was founded in 2006 by the passion of some friends, " lovers of foosball " , in the Province of Lucca with the aim to promote the Foosball game. Foosball understood as a real SPORT that our association wants to disclose on the territory of the TUSCANY region.
The Association is :
– registered into the National Registry of the amateur Association of CONI, in the section recognized by the Italian Paralympic Committee (CIP ) , affiliation dated on 16 .03. 2009 .
– affiliated to the F P ICB ( Italian Paralympic Federation of Foosball Table ), affiliated with the CIP Italian Paralympic Committee and in line with it , aims to promote and improve all aspects related to the game of FOOSBALL for the disabled people.
The Association is very sensitive to the issues of "Sport for Everyone" with particular attention to young and disabled people. Relating to that, it has arranged the following events over the years : "Giochiamo al Biliardino" – "Calcio Balilla per Tutti" – "Biliardinando" – "Calcio Balilla in Spiaggia" – "Campionato Regionale Paralimpico Calcio Balilla ", "Campionato Regionale Inclusivo Paralimpico Calcio Balilla" – "Gli Europei in Amicizia" , "Con la pallina nello zaino", "Ancora in Gioco con… il calcio balilla", "Un vecchio gioco per una nuova vita", "Un Gioco oltre ogni confine ", "Lo sport intorno ad un tavolo ", "Calci, Regole e Valori".
Our Association has obtained -decree n.3353 of 7 August 2012 of Tuscany Region- the  qualification of SportHabile® center. Moreover it has joined in July 2012 the Sports Ethics Charter promoted by Tuscany Region.
The Association is always active in the organization of events and meetings for the promotion of national and international foosball regulation , thanks to the presence of 3 official referees plus 3 international referees and the availability of foosball tables for disabled and non-disable people.